!-onMouseover Link CSS Script-© Dynamic Drive (www.dynamicdrive.com). For full source code, installation instructions, 100's more DHTML scripts, and Terms Of Use, visit dynamicdrive.com-->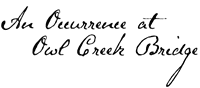 ---
The Michigan-based film company Owl Creek Productions, L.L.C. proudly announces the completion of their new film An Occurrence at Owl Creek Bridge. To celebrate there will be a 'Producers Gala Screening' of the film on June 21, 2003 at the Michigan Theatre in Ann Arbor, MI. This screening is open to the public and ticket information is available below. The film is based on the classic American short story originally written by Ambrose Bierce. It tells the tragic story of 'Peyton Farquhar': a man torn between his passionate devotion to his family and fierce notions of patriotism for his country during the time of the American Civil War. His ill-placed passion leads him to the end of plank with a noose around his neck.

This film is the directorial debut of Brian James Egen and is produced by Susan Odom who together founded Owl Creek Productions, L.L.C. They carefully secured the right blend of period-perfect locations, cast, and crew for their signature film, An Occurrence at Owl Creek Bridge. The film was shot on 35 mm and features an original music score, authentically detailed wardrobe and set design, a military railroad bridge and garrison, underwater photography and the crème-de-la-crème of background artists/extras.

It is a testament to Owl Creek Productions' exhaustive efforts at producing a film that loses none of the original plot's masterful blend of suspense, intrigue and unexpected horror. Director Brian James Egen has been captivated by this story for many years because, "all of the primary vices of dramatic tension are present and fully explored. My paramount objective as a storyteller is to maintain the impact, emotion and effect of this fascinating and macabre story."

Bradley M. Egen (An Ordinary Killer, Wicked Spring, Antietam, Heaven's Neighbors, etc.) stars as 'Peyton Farquhar'. Aaron Jackson co-stars as the 'Scout'. Jackson is seen daily on the nationally syndicated TV series California Dreams. The cast is rounded out by Jody Chansuolme as 'Libbie Farquhar', Grant DeMoss as the 'Son', My-Ishia Cason-Brown as 'Phoebe' and Robert Lee Hodge as the 'Executioner Sergeant'.

Director of Photography, Rich Brauer (Escanaba in da' Moonlight, Super Sucker) brought his skills as a veteran cinematographer to the table, giving this picture the high-end production values of a big-budget film. Peter Kopera, a professional musician and educator, composed the original music score. Industry veteran E. Todd Rollenhagen brings his media savvy crew from Ionpost on board as the editing team for this picture.

An Occurrence at Owl Creek Bridge is already proving successful. At a closed screening of the Director's "work in progress" recently held at Liberty University audience responses were overwhelmingly positive ranging from "Superb" to "Very exciting", "Doesn't let you go until the end" and "An excellent portrayal of an exciting literary work".

What's next? "The film festival circuit!" says Producer Susan Odom. On the 'circuit' she plans to showcase the film in pursuit of distribution. In fact, Owl Creek Productions has already been approached by film and television distributors regarding this high quality product.


November 12, 2006

This email is to announce the release of "An Occurrence at Owl Creek Bridge"!! The film was released on November 7, 2006. It is available on Amazon.com and at Wal-Mart and at many other major retailers.

The final title of the project is "Ambrose Bierce: Civil War Stories". Our Film "Owl Creek" was one of three short films selected for inclusion in this anthology piece.

When you watch the DVD please make sure to check out the 'special features' section; because that is where you will find the final cut of "Owl Creek". A shorter, edited version had to be included in the anthology.

Also you may like to know that the anthology is scheduled to be aired on a major cable network starting next April. And our final cut of the film is to be included in the anthology at that time! More details on that as the date approaches!

Sincerely,
Susan M. Odom
Producer, "An Occurrence at Owl Creek Bridge"


For more information and to view the movie trailer, go to Owl Creek Productions website.